Search All
Current Style
Prefix Search
Suffix Search
Cherished / Dateless
Advanced Search Options:
All
Current
Prefix
Suffix
Digits
Search by Digits
← Back
Simply enter how many digits, letters or numbers, that you would like on your private registration to see a list that meets your needs.
This method of searching is great for potential Investors looking for a cherished dateless plate at low-cost.
Prefix Number Plates
← Back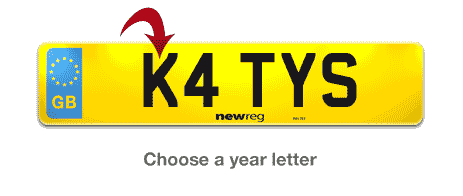 Prefix number plates are one of the most recognisable and impacting styles of vehicle registrations. Introduced in '83, prefix number plates start with a letter representing the year of the registration.
Suffix Registration Plates
← Back
Suffix style registration plates, introduced in 1963, contain 3 letters, 2/3 numbers and a last letter to indicate the year the vehicle was registered, starting from "A" being 1963, "B" being 1964, and so on.
If you'd like a suffix registration, simply use our suffix plate builder for instant results that come with an unbeatable price tag.
Current Style Registrations
← Back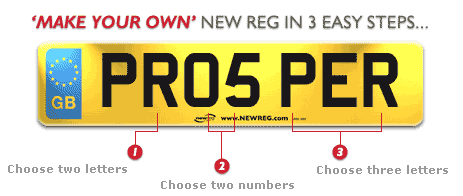 Current/New Style Registrations are the most recent types of Number Plates. They were first introduced in 2001.

Our search engine is the best in the business. Why? Because it converts ordinary everyday names or words into ready-to-buy number plates!
Simply enter your full name or initials, words of interest, or numbers relevant to you and our search engine will immediately start converting. Try it and see for yourself why it's the most advanced number plate search engine around.
What our customers say about us...
Previous Customer Gallery & Testimonials
Mike Mitchell - L18 UTD
As an avid Leeds United supporter, this last season is definately one which is best forgotten. In 2001 I bought a large number of Leeds Utd PLC shares, at a remarkably low price, and seeing the demise of the PLC earlier this year remarkably managed to sell these at a profit. So you could say that the Leeds United actually paid for my New Reg. A ray of sunshine on a season which now sees the mighty Leeds facing the NewReg sponsored Preston North End. One bonus for the First Division is that the average crowd will now rise, with up to 7000 Leeds fans travelling to most away games, including me with my New Reg.
Alan Stanley - R50 SOO
This number was exactly what I required at the right price!
Jageer Singh Mattu - M1 ATU
M1ATU was the nearest reg I could find to MATTU. I chose it in honour of my father who passed away a year ago and also as a legacy to hand down to my grandson who was also born a year ago.... so the family name lives on....
Randhir Suri - P1 NKG
My nickname is PINKS and all my friends call me Pinks too. Hence the closest to Pinks was PINX G.
Warren Warren - X5 FTR
I have purchased a BMW X5, hence the X5 and FTR are the initials of my company (Finishing Touch Repairs Ltd). I can now let people see the success of my business thanks to New Reg.
Gary Heath - M6 YMH
I bought the registration mark from New Reg as a 4th Wedding anniversary present for my wife. She owns an MGF (Her Pride & Joy) and her name is Yvonne Mary Heath, hence the Regy plate: MG YMH
You will not find another dealer advertising a registration mark or number plate cheaper than New Reg...
But if you do we'll beat it!