Different Number Plate Types
Prefix Number Plates
Search Prefix Number Plates
If you have a particular registration in mind, use this prefix registration style search to specify exactly what you want.
play_arrowEnter the prefix letter and trailing number/s.
play_arrowAdd three random letters.
play_arrowHit search! Browse your results.


HINT: Use just three characters to see more results.
Prefix number plates are one of the most popular types of registration that we here at New Reg deal in. Starting with a specific letter relating to the year of registration, this style of plate was introduced in the early 1980s, when the supply of suffix registrations - which end with a letter denoting the registration year - ran out.
In effect, car registrations started all over again on the 1st August 1983. Beginning with the letter A, prefix registration plates were issued every summer in the UK, and every plate started with a letter of the alphabet denoting the year of manufacture. Cars registered between 1st August 1983 and 1st August 1984 had number plates beginning with the prefix A, then from 1984 to 1985 B was used, then C for August 1985 to August 1986, and so on.
All letters of the alphabet were used in sequence, just as with the suffix plates that were used previously, with the exception of the letters I, O, Q, U, Z. This is because those particular letters bore too much resemblance to certain numbers or other letters, specifically 1, 0, 0, V and 2. To avoid confusion, these letters were not used.
The final character used for car reg prefix plates was the letter Y, which took the UK up to August 2001. The prefix system was then superseded by the current, new style number plates that are issued by the DVLA today.
Prefix plates begin with a letter as described above. This is then followed by two or three numbers, which are between 21 and 999. Numbers 1 to 20, for plates beginning with the letter A to H inclusive, were reserved for special issue, and are therefore rarer than those with numbers of 21 and above.
Once the letter J was reached, some additional numbers were also held back for select issue. As well as numbers 1 to 20, others including 30, 33, 40, 44, 111, 700, 777, 800 and 888 and the like were also reserved. Such numbers are available to buy when they come onto the market, and they are generally highly popular.
Following the prefix letter and numbers is a space, then these plates end with three letters. This makes them especially sought after as most people tend to have three initials, as well as the fact that there are some commonly used names and short words that consist of three letters.
The final two letters usually indicate where the vehicle was first registered. For example, BG denoted Liverpool or Birkenhead, while BA applied to Salford or Manchester. Many of these two-digit combinations were re-purposed for different areas in 1974.
There is a huge range of combinations available on prefix style plates, which explains why they are one of the most popular types of private registration that we offer for sale. Why not try our search function to see if we can match your chosen initials, word or name?
What is a prefix number plate?
A prefix number plate is the style of registration used for vehicles in the UK between 1983 and 2001. All such registrations begin with a letter of the alphabet indicating the year of registration. This was followed by up to three numbers, a space, then a combination of three letters.
Can you put a prefix number plate on any car?
It is not permissible to put any plate on a car that might make the vehicle appear newer than is actually the case, as this could be misleading to people buying a used car. Prefix number plates cannot therefore be used on older cars or vans that were first registered before 1st August 1983.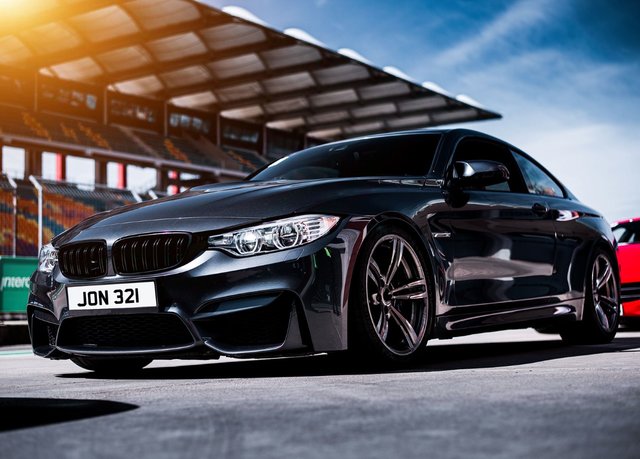 Prefix/Age Indicator | 1-3 Digit Code | 3 Letter Code
Common Number Plate Questions
What are the current legal requirements?

Number plates must be made from reflective material. The front plate must have black characters on a white background, while the back must have black characters on a yellow background. No background patterns are allowed.

Motorcycle and Motor-Tricycle riders only have to equip a number plate on the back of their vehicle.

What are the current legal measurements?

Characters on a number plate must also be a certain height and size, with particular spacing:
Standard Shape: Each plate measures 524mm x 112mm. Please note that these plates can display a maximum of 7 digits.
Standard 4x4 Rear: Standard 4x4 Rear 285mm x 203mm supplied with Standard front plate 524mm x 112mm.
Large Rear: Large Rear (Jaguar/Porsche etc.) 533mm x 152mm with Standard front plate 524mm x 112mm.
What type of changes are illegal?

The positioning and spacing of the number plate must not change to ensure the plate is road-legal and can be read correctly. Also, when creating a custom reg you cannot make the date of the car (the third and fourth characters) appear newer than it is.

How can I customise my private registration?

Besides the layout of letters and digits there are a few other ways you can personalise you reg:
Characters: With the license plate's characters you have a few options such as making the characters 3D.
Border: Choose from options such as dashed, dotted and solid to place a border around your reg.
Flag: Pick from a variety of flags such as the Union Jack or St George's Cross, then choose your tag such as ENG, England, SCO, SCOTLAND, WALES, UK and more.
NewReg.co.uk - The UK's most trusted private number plate supplier.
New Reg Limited are authorised and regulated by the Financial Conduct Authority (No. 626225).
Back to Top