Search All
Current Style
Prefix Search
Suffix Search
Cherished / Dateless
Advanced Search Options:
All
Current
Prefix
Suffix
Digits
Search by Digits
← Back
Simply enter how many digits, letters or numbers, that you would like on your private registration to see a list that meets your needs.
This method of searching is great for potential Investors looking for a cherished dateless plate at low-cost.
Prefix Number Plates
← Back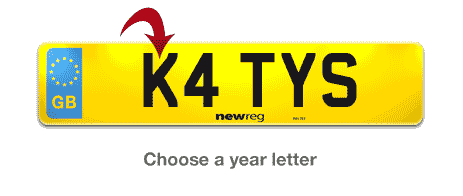 Prefix number plates are one of the most recognisable and impacting styles of vehicle registrations. Introduced in '83, prefix number plates start with a letter representing the year of the registration.
Suffix Registration Plates
← Back
Suffix style registration plates, introduced in 1963, contain 3 letters, 2/3 numbers and a last letter to indicate the year the vehicle was registered, starting from "A" being 1963, "B" being 1964, and so on.
If you'd like a suffix registration, simply use our suffix plate builder for instant results that come with an unbeatable price tag.
Current Style Registrations
← Back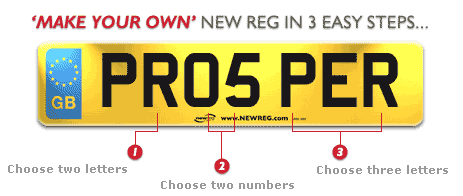 Current/New Style Registrations are the most recent types of Number Plates. They were first introduced in 2001.

Our search engine is the best in the business. Why? Because it converts ordinary everyday names or words into ready-to-buy number plates!
Simply enter your full name or initials, words of interest, or numbers relevant to you and our search engine will immediately start converting. Try it and see for yourself why it's the most advanced number plate search engine around.
You are here:

» Newreg » Homepage

How many types of car registrations are there?
There are many terms used to describe our product; registration numbers, personalised plates, DVLA number plates and private number plates are a few.
Current style number plates consist of two letters, a two-figure age identifier and finally three letters. Good examples of quality registrations are DE51 RES, PR05 PER and HU55 LED plus many more of course!
Prefix personalised number plates contain the year identifier at the beginning of the registration. A quality selection of cherished prefix registrations includes R4 NDY, S73 VEN and R4 CHS - great registrations, we think you'll agree!
Suffix DVLA Number plates contain the year identifier at the end of the registration. These number plates were issued to vehicles manufactured between 1963 and 1982. Good examples of these types of registrations are EXC 173D, BLO 550M and JEN 11E.
Dateless car registrations do not contain a year identifier and can consist of a number combination followed by a letter combination and vice versa. Some of these registrations such as JON 321 and Y 1 are seen as the crème de la crème within the number plate industry.
More detailed information can be found on our registration types page.

Got a question you need answering about number plates?
Need some assistance with your personalised plate? Or need help with the transfer of your registration? Check out our comprehensive FAQ section.
Our guide to acrylic number plates.
Regulations governing the supply of number plates state that registered DVLA suppliers must carry out identity and entitlement checks and maintain records of the transaction
We have an extensive range of number plates available for cars with national flag options of England, Scotland, Wales, Union Jack and Euro. These are displayed on the left hand side of the number plate.
New Reg do not manufacture illegally spaced acrylic plates. The law states that you must not alter, rearrange or misrepresent the letters or numbers. Offenses may result in a fine of up to £1,000! All materials used in our acrylic number plates are BSAU145d approved and all of our design options comply with the Display of Registration Marks Regulations.
For more detailed information, please click here.
You will not find another dealer advertising a registration mark or number plate cheaper than New Reg...
But if you do we'll beat it!