Search All
Current Style
Prefix Search
Suffix Search
Cherished / Dateless
Advanced Search Options:
All
Current
Prefix
Suffix
Digits
Search by Digits
← Back
Simply enter how many digits, letters or numbers, that you would like on your private registration to see a list that meets your needs.
This method of searching is great for potential Investors looking for a cherished dateless plate at low-cost.
Prefix Number Plates
← Back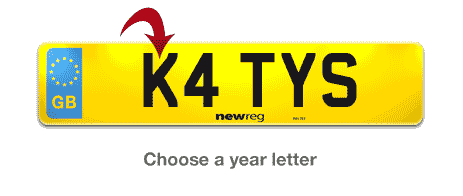 Prefix number plates are one of the most recognisable and impacting styles of vehicle registrations. Introduced in '83, prefix number plates start with a letter representing the year of the registration.
Suffix Registration Plates
← Back
Suffix style registration plates, introduced in 1963, contain 3 letters, 2/3 numbers and a last letter to indicate the year the vehicle was registered, starting from "A" being 1963, "B" being 1964, and so on.
If you'd like a suffix registration, simply use our suffix plate builder for instant results that come with an unbeatable price tag.
Current Style Registrations
← Back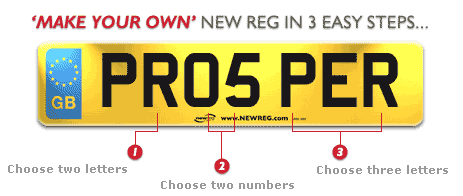 Current/New Style Registrations are the most recent types of Number Plates. They were first introduced in 2001.

Our search engine is the best in the business. Why? Because it converts ordinary everyday names or words into ready-to-buy number plates!
Simply enter your full name or initials, words of interest, or numbers relevant to you and our search engine will immediately start converting. Try it and see for yourself why it's the most advanced number plate search engine around.
You are here:

» Cherished numbers
Cherished Numbers
'Cherished number plates' is viewed by some as a peculiar description for what we provide to our customers - many prefer the terms 'personalised registration plates' or 'personal car number plates ' - however in very many cases cherished number plates are just that; number plates that are cherished by their owners. It is not unusual for customers to tell us that they have been searching for a specific registration and waited for years for it to become available!
Sometimes buyers are desperate to find a his and hers pair. Here at New Reg we'll try our best to match our customers to their perfect pair of cherished numbers. We have a particularly good example of a pair of cherished numbers in our New Reg stock at the moment; 1 MR and 1 GR, perfect you'll agree for Michael and Gill Robertson. They are cherished numbers indeed, and a pair which will add weight to any number plate portfolio.
A lot of people like to find registration marks which are similar or like their name, or something about them: a hobby or occupation perhaps. Number and letter combinations which represent initials and dates of birth are also very popular.When it comes to the ultimate in status symbols, it is the number one which must be considered the ultimate cherished number plates.
Don't worry that your own perfect cherished registration may be beyond your means, at Newreg we have something for every budget so something for everyone. Some of the most popular plates, initials plates for example, may be had for under £250.00, so why not search for yours today? Use the search box, or choose one of our other cherished numbers search options.
You will not find another dealer advertising a registration mark or number plate cheaper than New Reg...
But if you do we'll beat it!