Search over 40 million registrations!
All
Current
Prefix
Suffix
Dateless
Search by Digits
← Back
Simply enter how many digits, letters or numbers, that you would like on your private registration to see a list that meets your needs.
This method of searching is great for potential Investors looking for a cherished dateless plate at low-cost.
Prefix Number Plates
← Back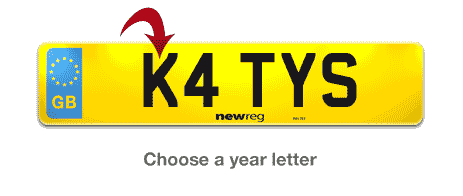 Prefix number plates are one of the most recognisable and impacting styles of vehicle registrations. Introduced in '83, prefix number plates start with a letter representing the year of the registration.
Suffix Registration Plates
← Back
Suffix style registration plates, introduced in 1963, contain 3 letters, 2/3 numbers and a last letter to indicate the year the vehicle was registered, starting from "A" being 1963, "B" being 1964, and so on.
If you'd like a suffix registration, simply use our suffix plate builder for instant results that come with an unbeatable price tag.
Current Style Registrations
← Back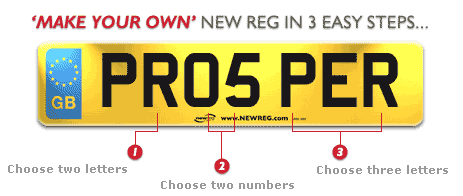 Current/New Style Registrations are the most recent types of Number Plates. They were first introduced in 2001.
Instructions
Dateless vehicle registrations stand out as a top of the range personalised number plate. Dateless plates may also be used to hide the age of your vehicle.
New Reg are specialists in Cherished and Dateless vehicle registrations. We have thousands of stock and third-party cherished registrations on our website for you to buy. Take a look at the table below to see the format and examples of Dateless and Cherished number plates.
If you have a particular registration in mind, use this dateless registration style search to specify exactly what you want.
play_arrowDecide which set up of letters and numbers you need.
play_arrowChoose closest match from drop down.
play_arrowHit search! Browse your results.


HINT: Take a look below to learn a little more information.