Search All
Current Style
Prefix Search
Suffix Search
Cherished / Dateless
Advanced Search Options:
All
Current
Prefix
Suffix
Digits
Search by Digits
← Back
Simply enter how many digits, letters or numbers, that you would like on your private registration to see a list that meets your needs.
This method of searching is great for potential Investors looking for a cherished dateless plate at low-cost.
Prefix Number Plates
← Back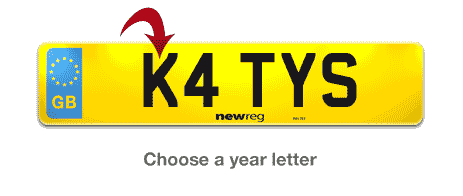 Prefix number plates are one of the most recognisable and impacting styles of vehicle registrations. Introduced in '83, prefix number plates start with a letter representing the year of the registration.
Suffix Registration Plates
← Back
Suffix style registration plates, introduced in 1963, contain 3 letters, 2/3 numbers and a last letter to indicate the year the vehicle was registered, starting from "A" being 1963, "B" being 1964, and so on.
If you'd like a suffix registration, simply use our suffix plate builder for instant results that come with an unbeatable price tag.
Current Style Registrations
← Back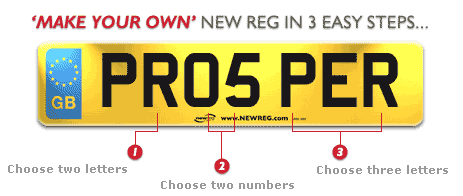 Current/New Style Registrations are the most recent types of Number Plates. They were first introduced in 2001.

Our search engine is the best in the business. Why? Because it converts ordinary everyday names or words into ready-to-buy number plates!
Simply enter your full name or initials, words of interest, or numbers relevant to you and our search engine will immediately start converting. Try it and see for yourself why it's the most advanced number plate search engine around.
You are here:

» Irish number plates
Many customers are finding there are some very good deals available on Northern Irish number plates which may be transferred onto vehicles in England, Scotland or Wales. These feature different character groupings and letter/number sequences from those used on plates issued in the rest of the UK.One way the letters and numbers are arranged on Irish plates are that they offer a very cost-effective way of putting a 'dateless' registration onto a car. Dateless registrations may be assigned to vehicles of any age (unlike new-style, prefix or suffix plates) as they have no year identifier number or letter,meaning they cannot be used to give a false impression of the age of a vehicle.
Click the link to see examples of our Irish number plates and dateless registrations.
Please understand, although registrations from Northern Ireland may be transferred to other UK vehicles, numbers from the Republic of Ireland are not usually eligible for transfer to UK vehicles.
The purchase of Irish number plates is slightly more involved than other plates transfers, but at New Reg we complete many successful Irish number plate sales every week, we also pride ourselves of the smooth transfer to our customers' English, Scottish and Welsh cars. We take care of each stage of the process, so that you, the customer, don't need to worry about the 'red tape'.
You'll find that much of our website is aimed at trying to marry you up with the cherished registration that is right for you. If Irish number plates do not provide what you are seeking then please browse our other categories. We have a number of search options, and plenty of information to guide you.
You will not find another dealer advertising a registration mark or number plate cheaper than New Reg...
But if you do we'll beat it!