Search All
Current Style
Prefix Search
Suffix Search
Cherished / Dateless
Advanced Search Options:
All
Current
Prefix
Suffix
Digits
Search by Digits
← Back
Simply enter how many digits, letters or numbers, that you would like on your private registration to see a list that meets your needs.
This method of searching is great for potential Investors looking for a cherished dateless plate at low-cost.
Prefix Number Plates
← Back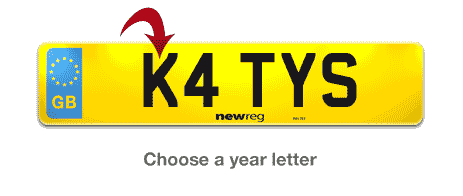 Prefix number plates are one of the most recognisable and impacting styles of vehicle registrations. Introduced in '83, prefix number plates start with a letter representing the year of the registration.
Suffix Registration Plates
← Back
Suffix style registration plates, introduced in 1963, contain 3 letters, 2/3 numbers and a last letter to indicate the year the vehicle was registered, starting from "A" being 1963, "B" being 1964, and so on.
If you'd like a suffix registration, simply use our suffix plate builder for instant results that come with an unbeatable price tag.
Current Style Registrations
← Back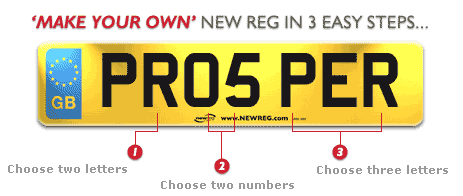 Current/New Style Registrations are the most recent types of Number Plates. They were first introduced in 2001.

Our search engine is the best in the business. Why? Because it converts ordinary everyday names or words into ready-to-buy number plates!
Simply enter your full name or initials, words of interest, or numbers relevant to you and our search engine will immediately start converting. Try it and see for yourself why it's the most advanced number plate search engine around.
You are here:

» Personalised number plates
Personal number plates are more than just a way for your car to be identified. Your number plates can actually say a lot about you and your personality.
The system of DVLA * number plates used in the UK produces combinations of numbers and letters which can bear a very striking resemblance to common names and words. This along with the initials combinations that are available on number plates, means that there is a personal number plate for nearly everyone!
You have probably seen pictures in the press of celebrities with their exclusive personalised registrations. Some of these plates have been acquired for very large sums - sometimes hundreds of thousands of pounds, many of the best are still available at very modest prices. Newreg.com has car registrations plates for sale from just £69
This, of course, means that personal number plates are not only eye-catching,fun and great to give as gifts, but they can also represent outstanding investment potential.
You will not find another dealer advertising a registration mark or number plate cheaper than New Reg...
But if you do we'll beat it!