Search All
Current Style
Prefix Search
Suffix Search
Cherished / Dateless
Advanced Search Options:
All
Current
Prefix
Suffix
Digits
Search by Digits
← Back
Simply enter how many digits, letters or numbers, that you would like on your private registration to see a list that meets your needs.
This method of searching is great for potential Investors looking for a cherished dateless plate at low-cost.
Prefix Number Plates
← Back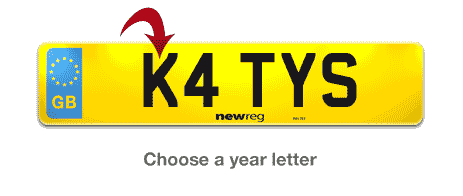 Prefix number plates are one of the most recognisable and impacting styles of vehicle registrations. Introduced in '83, prefix number plates start with a letter representing the year of the registration.
Suffix Registration Plates
← Back
Suffix style registration plates, introduced in 1963, contain 3 letters, 2/3 numbers and a last letter to indicate the year the vehicle was registered, starting from "A" being 1963, "B" being 1964, and so on.
If you'd like a suffix registration, simply use our suffix plate builder for instant results that come with an unbeatable price tag.
Current Style Registrations
← Back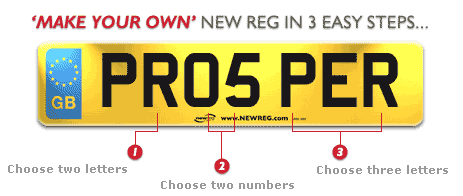 Current/New Style Registrations are the most recent types of Number Plates. They were first introduced in 2001.

Our search engine is the best in the business. Why? Because it converts ordinary everyday names or words into ready-to-buy number plates!
Simply enter your full name or initials, words of interest, or numbers relevant to you and our search engine will immediately start converting. Try it and see for yourself why it's the most advanced number plate search engine around.
You are here:

» Services » Buyers Questions And Answers
Buyers FAQ'S
If the registration is presently owned by a VAT registered company or individual, VAT is added. Registrations sold by us on a commission basis are not subject to VAT.
You can pay using any of the following:




Cheque (please allow a minimum of 7 working days for clearance), Postal Order or bankers draft. Alternatively, you can pay using online banking


| | |
| --- | --- |
| Banker: | NatWest. Preston |
| Account Name: | New Reg Ltd |
| Account No: | 41496582 |
| Sort Code: | 01-67-14 |
| Ref: | Your new registration mark |
The average transfer time is approximately 2-4 weeks. We ensure that every transfer is completed as quickly as possible. However, we cannot commence the transfer until we receive ALL the required documents. We take great care of your documents but cannot accept any responsibility for their safety once forwarded to the DVLA, although, it is extremely rare for documents to be lost.
If you are buying a registration that has never previously been issued or assigned to a vehicle, the transfer usually takes between 7-14 days. This is because no donor vehicle needs \r\ninspecting by the Department of Transport. These registrations are held on a Certificate of Entitlement, carrying us as the 'Purchaser' and our customer as the 'nominee' thus minimising the amount of administration required.

Where the registration has previously been assigned to another vehicle there may be a need for an inspection of the donor vehicle prior to completing the transfer. In order to make a vehicle ready for transfer, the donor vehicle must be taxed and must hold a current MOT certificate. These documents may take a few weeks to reach us from the donor.

In addition to the time required to obtain the above documents the governing bodies themselves require ample time to process transfer applications.
No. You are only buying the registration and the right to transfer it to a vehicle of your choice.
No. Because every previously unissued registration mark will need a new pair of number plates; New Reg offer a highly competitive and convenient manufacture and delivery service that must be paid for in addition to the registration mark at the time of purchase. New Reg are a DVLA approved manufacturer and will only supply legal number plates.
Unfortunately transfers are not possible to 'Q' registered vehicles. At present 'Q' prefix registration marks are non-transferable.
Yes. We need the V55 form from the garage your new vehicle is being bought from. Certain vehicle franchises will not release V55 documents, some franchises use a digital system - please check with the vehicle supplier first. We also need your insurance certificate and a cheque payable to the Driver & Vehicle Licensing Agency for the road tax, first registration fee and transfer fee (if applicable).

Because the transfer time is uncertain it may be more appropriate to have a year-related registration assigned by the garage supplying the vehicle. By opting for this you will have full use of the vehicle whilst the transfer is underway.
No. Every new vehicle is supplied with an appropriate year letter free of charge by the garage. The only charge made by the garage is for the acrylic plates.
Yes. All motorbikes (including mopeds) can participate freely, provided the normal requirements of the transfer facility are met.
Yes. In addition to the new age-related prefix registration marks, there is a possibility that the governing bodies may consider issuing the 'E & F' prefix combinations (number range 1-20 inclusive only). However, such decisions are at the sole discretion of the governing bodies. There are many changes in hand and nothing is certain.
The rule is; you cannot make a vehicle look newer than it actually is by transferring a younger year letter. For example, ABC 8W cannot be transferred to a vehicle originally registered as NDF 715P as this would make it look younger. The same applies to 'S' prefix registration marks, these can only be assigned to vehicles first registered as new on or after the 1st of August 1998. Vehicle registration marks that do not contain a year identifier may be assigned to a vehicle of any age.
It's automatically made void, unless you pay the Department of Transport a fee to retain it. We will advise you when to remove and destroy your old plates and fit your new ones. Further information on retaining your old registration mark can be found on our website under Services > Retention Scheme.
You can request the old registration mark to be re-assigned to your vehicle only if the windows of the vehicle are etched with the registration mark. The Vehicle Registration Office may call in your vehicle for an inspection to verify your claim. There are no guarantees that the governing bodies will re-issue the registration mark but, in our experience, it's highly likely they will do so.
There are many reasons why the system of assigning registration marks is so strict. The most obvious reason is that registrations are a method of law enforcement and as such the integrity and clarity of the transfer system must be upheld.
Yes, in some cases. Although you cannot transfer or retain a non-transferable registration mark, the vehicle can receive a registration mark providing the non-transferable registration mark is not a 'Q' prefix, and providing the vehicle meets the normal conditions of the Sales, Transfer and Retention schemes.
No problem!

Road Tax: Simply send the appropriate fee (cheques payable to the Driver & Vehicle Licensing Agency), together with your Insurance Certificate or cover note to us. We will do the rest!

MOT: You must ensure that the garage MOT the vehicle using the old registration. Send the new Certificate to us with a covering note informing us of the registration mark that you are purchasing. We will request the MOT be amended during the transfer procedure.
Yes, no problem, this is a double transfer. All we need is the documents from the third vehicle involved and an extra £80 (cheque payable to the Driver & Vehicle Licensing Agency) along with a V317 application form and our additional administration fee, currently £80. If no third vehicle is available, then the registration mark can normally be retained on a retention certificate in accordance with the governing regulations. The current fee is £25 (plus the £80 transfer fee) which is to be supplied with the V778/1 application form and our additional administration fee, currently £80. Further information on retaining a registration mark may be found on our website under Services > Retention Scheme.
Not usually. However, if, for example, there has been a change of construction of the vehicle, the authorities may then want to inspect it. You would be notified if this were necessary.
We handle thousands of transfers every year and one of the largest drains to our human resource is handling progress reports. New Reg respectfully request that you avoid telephoning our transfer office unless it is absolutely urgent as this reduces the amount of available time to process your paperwork. Should your telephone call be unavoidable, you may call us on 01772 566402. Please ensure that you have read all correspondence from New Reg before making your call.
Yes. You can pay the outstanding balance by credit card although we charge a 2% handling charge on a Visa or MasterCard (4% for Amex). Debit cards, such as Switch do not incur a handling charge. In all cases we need your written confirmation to debit the outstanding amount from your credit card.
We expect all purchase agreements to be honoured, just as you expect us to honour our terms of business. However, we do recognise that situations can change and we'll advertise and re-sell the registration on a reduced commission basis on your behalf but only after payment has been made in full. This arrangement is subject to our selling terms of business.
There are no time restrictions and transferring a registration is a simple procedure which may be completed by yourself at your local licensing office. Please note that any registration mark purchased from us must not be offered for re-sale until our transaction with you has been finalised.
It is against the law in Britain to supply such plates for road use. To display illegally spaced or indistinguishable acrylic plates is an offence and can result in a fine of up to £1,000!
All acrylic plates are supplied with a protective film used to prevent damage to the plates. This film must be removed before use.
You will not find another dealer advertising a registration mark or number plate cheaper than New Reg...
But if you do we'll beat it!