Search All
Current Style
Prefix Search
Suffix Search
Cherished / Dateless
Advanced Search Options:
All
Current
Prefix
Suffix
Digits
Search by Digits
← Back
Simply enter how many digits, letters or numbers, that you would like on your private registration to see a list that meets your needs.
This method of searching is great for potential Investors looking for a cherished dateless plate at low-cost.
Prefix Number Plates
← Back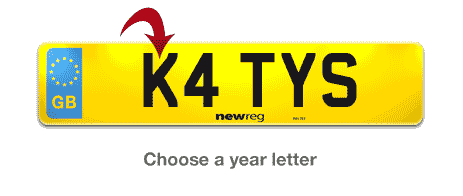 Prefix number plates are one of the most recognisable and impacting styles of vehicle registrations. Introduced in '83, prefix number plates start with a letter representing the year of the registration.
Suffix Registration Plates
← Back
Suffix style registration plates, introduced in 1963, contain 3 letters, 2/3 numbers and a last letter to indicate the year the vehicle was registered, starting from "A" being 1963, "B" being 1964, and so on.
If you'd like a suffix registration, simply use our suffix plate builder for instant results that come with an unbeatable price tag.
Current Style Registrations
← Back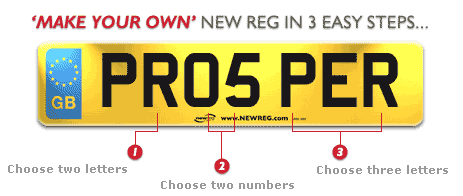 Current/New Style Registrations are the most recent types of Number Plates. They were first introduced in 2001.

Our search engine is the best in the business. Why? Because it converts ordinary everyday names or words into ready-to-buy number plates!
Simply enter your full name or initials, words of interest, or numbers relevant to you and our search engine will immediately start converting. Try it and see for yourself why it's the most advanced number plate search engine around.
You are here:

» Services » General Questions And Answers
General FAQS
New Reg provide details of the many available marks Nationwide. In addition to selling thousands of our own stock items we also hold many public commissions and the stock and commissions of many other dealers throughout the UK. Occasionally, records are miss-typed and appear as an alternative combination that is in fact not for sale. Also there are circumstances where a recently acquired mark is still on our database due to the fact that the donor has failed to advise us of the sale and subsequent non-availability. If you have recently noted that your mark is listed and wish to provide us with further information or wish us to remove it from the web site, please send an email to errors@newreg.com not forgetting to specify the registration in question and the validation character off your V5 (log book) for confirmation.
You can pay using any of the following:





or by cheque (please allow a minimum of 7 working days for clearance), or bankers draft. Alternatively, you can pay into our bank account.


Banker:
Barclays Bank Plc
38 Fishergate, Preston,
Lancashire, PR1 2DD
Account Name:
New Reg Limited
Account No:
10233544
Sort Code:
20-69-85
Ref:
Your new registration
Registration numbers are not items of property in their own right. They are assigned, and may be withdrawn, by the Secretary of State as part of the basic registration and licensing process which is required by law. The registration number is a unique means of identifying a vehicle, primarily for taxation and law enforcement purposes. It is assigned to the vehicle, rather than its keeper, and unless it is transferred or retained the registration number normally remains with the vehicle until it is broken up, destroyed or sent permanently out of the country.

An individual acquires entitlement to a registration number when he or she becomes the registered keeper of the vehicle which carries the number. When the vehicle changes hands, entitlement to its registration number will automatically pass with the vehicle to the new keeper unless use is made of the special facilities which have been designed to allow motorists to acquire and retain particular registration numbers. Namely,the Cherished Transfer, Retention and Sale of Marks schemes.
Registration numbers are not items of property so you cannot buy legal title to them. What you pay for is the assignment right to the particular number. The sale involves a legally binding contract between the Secretary of State and the purchaser for an agreed price. The purchaser is granted the right to assign the number to a vehicle registered in his/her own name, or that of his/her nominee where applicable, within a 12 month period. The assignment right is granted to the purchaser alone and it is non-transferable - the nominee has no rights to the number.

In addition to the agreed sale price, an assignment fee (currently £80) is payable at the time of purchase. Buyers are issued with a V750 Certificate of Entitlement, valid for 12 months, which records details of the registration number, the purchaser and nominee details where supplied at the time of purchase.

The Sale of Registration Marks regulations 1995 explains what you need to do when you are ready to have the number assigned. Numbers can only be assigned to vehicles which are subject to testing and are currently licensed or are being licensed at the time of assignment.

REMEMBER: A nominee has no rights under the sales agreement - the assignment right is granted to the purchaser only and cannot be transferred.

Only the purchaser can apply to have the number assigned, and it can only be assigned to a vehicle registered to the purchaser, or to the nominee shown on the Certificate of Entitlement.

Once you have assigned the number to your, or your nominee's, vehicle you have fully exercised your rights under the terms of your contract with the Secretary of State. After assignment, entitlement to the number comes through being the keeper of the vehicle which has received it. Only the keeper is entitled to apply for retention or transfer of the number.

Please note that if the number is being assigned to a vehicle which is already registered, its existing number will become void unless an application to transfer or retain that number is made at the same time.
In short there are no guarantees of getting any registration number issued that does not exist. Some marks are not issued because they are considered offensive, others just never made it to issue over the years.
Entitlement to a number is effectively the right of the registered keeper of a vehicle to apply to have the number transferred to another vehicle (either his own or someone else's). The keeper is also entitled to apply to have the number of his vehicle put on retention, that is to say take the number off the vehicle and put it on hold pending re-assignment to another vehicle. It is important to note that the keeper may apply, but the application will only be granted if all the conditions relating to the retention and transfer facilities are satisfied. You can help to safeguard your entitlement, therefore, by ensuring that your vehicle is able to meet these conditions.

If you no longer have the vehicle which properly displays the number (ie it is in someone else's keepership or has been scrapped, broken up, destroyed or exported) then your entitlement to the number ceases.
If your vehicle is stolen and has not been recovered after a year you can apply to have its registration number re-assigned to your replacement vehicle providing certain conditions are met. In order to qualify for the concession, the theft must have been notified to the police and recorded at DVLC as stolen for not less than 12 months. In addition, at the time of the theft the vehicle must have had a current test pass certificate and have had a current vehicle excise License (tax disc). The Agency will also require a letter from your insurers confirming that they have no objection to the number being re-issued. This must be provided because once insurers have settled your claim, they have a rightful claim to the vehicle should it be recovered.

To apply, or for further information, write quoting the registration number to Cherished Transfer Section, D13, Driver and Vehicle Licensing Centre, Swansea SA6 7JL. If you wish to telephone, DVLC's Customer Enquiries number is (01792) 772134.
A write-off happens when a damaged vehicle is judged by insurers to be beyond economic repair. In such a case, the insurance company agrees a pay-out with the insured, and legal ownership of the vehicle then passes to the insurance company. The company is then free to sell the vehicle as salvage and the purchaser may repair it and put it back on the road.
Scrapping occurs when a vehicle, whether an insurance write-off or not, is broken up for spares or otherwise destroyed. Once a vehicle ceases to exist its registration number is cancelled.

If your vehicle has been scrapped, you will not be able to transfer its registration number.

The person who actually breaks up or destroys the vehicle must notify the governing bodies that the vehicle has been scrapped and return the V5 registration document.
No, all motorcycles (including mopeds) can participate freely provided the normal requirements of the number transfer facility are met
IMPORTANT : There is no obligation on the DVLC to send you a reminder. It is your responsibility to know when your rights are due to expire and it is up to you to either assign the number or apply for an extension before this happens. Your rights will be lost if you act too late.
These details can be added to or changed later for an administration charge of £80.00 payable to The Company. DVLA will not accept an application by The Purchaser to amend the document. Certificate of Entitlements and Retention Certificates MUST have a minimum of 30 days left prior to the expiry date.
You do not have to assign the number if you do not wish to; you can simply allow your assignment / retention rights to expire. You need take no further action unless you paid the (£80) assignment fee when you acquired the rights; in this case you can apply to DVLC for a refund of this fee - your Certificate of Entitlement or Retention Document tells you how.


You are legally obliged to notify the governing bodies if you are taking your vehicle abroad for more than 12 months. More information on this can be found in leaflet V100 which is available from VROs and main Post Offices.

What you need to do to secure the registration number depends on the circumstances. For example, you may be selling the vehicle overseas. In this case, you must either transfer or retain the number before you part with the vehicle. Alternatively, you may be going abroad with the vehicle for a few years and intend to bring it back with you when you return. In this case transfer or retention before you leave is not essential, as most vehicles on return to this country from overseas are able to pick up their GB registration numbers, provided documentary evidence to link the vehicle and the number is available.

The best course of action is to get advice from your local VRO , or from Customer Enquiries at DVLC, well in advance of the planned date of export. For the address and telephone number of your local VRO look in your 'phone book under "Transport, Department of". You can write to Customer Enquiries (Vehicles) at the Driver and Vehicle Licensing Centre, Swansea SA99 1BL. If you wish to telephone, the number you need is (01792) 772134.

Please note: If you wish to transfer or retain your number you must do so before the vehicle leaves Great Britain - you cannot apply once the vehicle is out of the country.
It is possible for the vehicle to be registered by the governing bodies. But you will not be able to transfer or retain its number.

If you are able to supply documentary evidence (eg the old-style log book) to establish a link between the vehicle and the registration number, you should be able to register the vehicle under that number. If you do not have documentary evidence, or you do not know the vehicle's registration number, the vehicle may still be registered but in this case a number appropriate to its age will be assigned by the governing bodies. If the age or origin of the vehicle cannot be established, then the governing bodies may register the vehicle under a "Q" number. Whatever the circumstances, however, the vehicle's registration number will be non-transferable. This arrangement helps to safeguard entitlement by removing the incentive there would otherwise be for spurious claims to attractive old registration numbers.
Sorry, no. Vehicles are assigned "Q" prefix registration numbers to draw attention to the fact that their origins or age are uncertain. "Q" numbers are therefore non-transferable and must remain with the vehicle unless documentary evidence which confirms its origins / age comes to light. In this case, the evidence should be sent to your nearest VRO who may then assign a replacement age-related number to the vehicle.
Yes. Although you cannot transfer or retain a non-transferable number, the vehicle can receive a registration number providing the non-transferable number is not a "Q" mark and providing the vehicle meets the normal conditions of the Sales, Transfer and
Yes, providing the donor and recipient vehicles are registered at DVLC or on the NI Register. Similarly, you may transfer a GB number to a vehicle registered in NI. In either case the vehicles must, of course, meet the requirements of the transfer scheme.
Sorry, no. Once a vehicle has ceased to exist, entitlement to its number also ceases. Possession of a log book or registration document alone does not give entitlement to a registration number. If a vehicle has been scrapped, you are required by law to notify the Secretary of State and return the registration document to DVLC.
You will not find another dealer advertising a registration mark or number plate cheaper than New Reg...
But if you do we'll beat it!