Search All
Current Style
Prefix Search
Suffix Search
Cherished / Dateless
Advanced Search Options:
All
Current
Prefix
Suffix
Digits
Search by Digits
← Back
Simply enter how many digits, letters or numbers, that you would like on your private registration to see a list that meets your needs.
This method of searching is great for potential Investors looking for a cherished dateless plate at low-cost.
Prefix Number Plates
← Back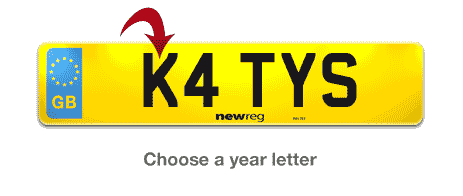 Prefix number plates are one of the most recognisable and impacting styles of vehicle registrations. Introduced in '83, prefix number plates start with a letter representing the year of the registration.
Suffix Registration Plates
← Back
Suffix style registration plates, introduced in 1963, contain 3 letters, 2/3 numbers and a last letter to indicate the year the vehicle was registered, starting from "A" being 1963, "B" being 1964, and so on.
If you'd like a suffix registration, simply use our suffix plate builder for instant results that come with an unbeatable price tag.
Current Style Registrations
← Back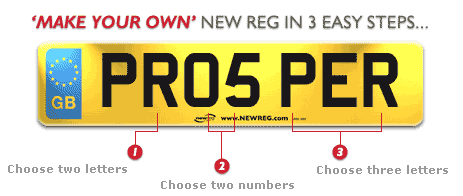 Current/New Style Registrations are the most recent types of Number Plates. They were first introduced in 2001.

Our search engine is the best in the business. Why? Because it converts ordinary everyday names or words into ready-to-buy number plates!
Simply enter your full name or initials, words of interest, or numbers relevant to you and our search engine will immediately start converting. Try it and see for yourself why it's the most advanced number plate search engine around.
You are here:

» Services » Privacy Policy
New Reg Privacy Policy
1. Online Privacy Practices
Your right to privacy is very important to us. We want to ensure we strike a fair balance between your personal privacy and you obtaining full value from the internet and other products and services we may be able to offer you.
2. Subscription
In some areas of our website, we ask you to provide information as we may wish to reply to you after your visit. This would include where you subscribe to our online newsletters or provide feedback to New Reg through contact form or when you complete any on line survey we may offer from time to time. When you do so, we ask you to give New Reg your name, email address and other personal information that will be needed to supply the services to you. In relation to on line newsletters you can 'unsubscribe' at any time. We may use your personal data for future email mailings, support, notification of new products or new versions, general correspondence regarding the products and correspondence which may relate to you. If you would rather not receive future marketing emails from New Reg please inform us by email at Privacy@NewReg.com
The information you provide will be kept confidential and will be used only to support your customer relationship with us. We do not disclose or sell your information outside our corporate group except if we sell the whole or part of our business.
3. Trading from our Website
Making sure you can buy safely on line is a priority for New Reg and we have made strenuous efforts to ensure that our security is one of our highest priorities and we have devoted a great deal of effort to ensure that our online security measures help to safeguard your information. We use industry-standard Secure Sockets Layer (SSL) technology to allow for the encryption of:
Potentially sensitive information such as your name and address
Critically-sensitive information like your payment card number
A pre-paid MasterCard is an option that allows you to limit the amount of funds available on your payment card at any time. We hope that once you understand the measures we take to help ensure secure transactions and privacy, and the steps you can take yourself, you will be as happy about the safety of your online transaction and order information as we are. We have no desire to infringe your privacy while using our site and we will never provide your personal information to anyone else except if we sell our business in whole or in part.
END OF PRIVACY POLICY OF NEW REG LIMITED
You will not find another dealer advertising a registration mark or number plate cheaper than New Reg...
But if you do we'll beat it!