Search All
Current Style
Prefix Search
Suffix Search
Cherished / Dateless
Advanced Search Options:
All
Current
Prefix
Suffix
Digits
Search by Digits
← Back
Simply enter how many digits, letters or numbers, that you would like on your private registration to see a list that meets your needs.
This method of searching is great for potential Investors looking for a cherished dateless plate at low-cost.
Prefix Number Plates
← Back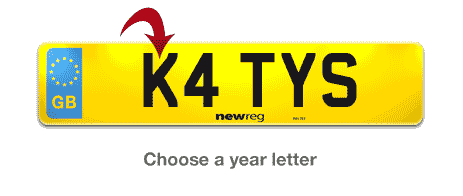 Prefix number plates are one of the most recognisable and impacting styles of vehicle registrations. Introduced in '83, prefix number plates start with a letter representing the year of the registration.
Suffix Registration Plates
← Back
Suffix style registration plates, introduced in 1963, contain 3 letters, 2/3 numbers and a last letter to indicate the year the vehicle was registered, starting from "A" being 1963, "B" being 1964, and so on.
If you'd like a suffix registration, simply use our suffix plate builder for instant results that come with an unbeatable price tag.
Current Style Registrations
← Back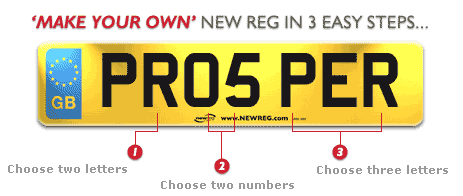 Current/New Style Registrations are the most recent types of Number Plates. They were first introduced in 2001.

Our search engine is the best in the business. Why? Because it converts ordinary everyday names or words into ready-to-buy number plates!
Simply enter your full name or initials, words of interest, or numbers relevant to you and our search engine will immediately start converting. Try it and see for yourself why it's the most advanced number plate search engine around.
You are here:

» Services » Sellers Questions And Answers
Sellers FAQS
Nothing. New Reg commission is paid by the purchaser of the mark.
You can pay using any of the following:





or by cheque (please allow a minimum of 7 working days for clearance), or bankers draft. Alternatively, you can pay into our bank account.


Banker:
Barclays Bank Plc
38 Fishergate, Preston,
Lancashire, PR1 2DD
Account Name:
New Reg Limited
Account No:
10233544
Sort Code:
20-69-85
Ref:
Your new registration
Yes. However, it is worth remembering that the price New Reg has indicated is based on a true market quotation that we believe your registration mark shall achieve. If the price is dramatically increased to over 50% of the true market valuation then we will not advertise the registration mark on your behalf.
No. Upon finding a buyer for your registration number your contract will be enforced, ensuring that the purchaser of your mark pays the price pre-agreed upon.
No. Your vehicle will be automatically issued with a random replacement mark with an appropriate year letter during the transfer procedure. You are not charged for the standard replacement mark.
Payment shall be made in full after the transfer procedure has been completed and all documents have been acquired from the governing bodies. Completion is indicated by notification to New Reg of the replacement mark for the donor vehicle and proof of the same.
You may cancel your agreement at any time by sending written confirmation by recorded delivery to: New Reg, P.O. Box 911, Longton, Preston, Lancs. PR4 5PS. Cancellation must be made prior to New Reg finding a buyer for the registration mark.
Vehicles must be currently licensed, or in the process of being licensed. The application will still be considered, however, where the last License (tax disc) expired within six months of the date of application. Where you were the registered keeper of the vehicle at the time when the MOT was valid, you have up to six months from the expired date of the MOT provided your road tax is either valid at the time of transfer or expired naturally (i.e. was not refunded).
IMPORTANT: DO NOT dispose of the vehicle until the application has been fully completed and you have received the amended registration document(s). If you dispose of the vehicle too soon, you may lose entitlement to the cherished mark.
No. If the registration document states that the registration number is non-transferable, then it cannot be transferred or retained. Subsequently the registration mark does not comply with the terms of business.
Upon completion of the transfer New Reg shall arrange for a replacement mark to be assigned to your vehicle and notify you of the same when the time comes to affix the replacement plates. Your vehicle shall receive a mark appropriate to the year of first registration and shall NOT be issued with a 'Q' prefix registration number.
No. Vehicles must be subject to MOT / HGV test. Non-testable vehicles such as agricultural tractors and milk floats, for example, are outside the scope of the schemes. Only testable vehicles can participate in transfers and retentions and valid test certificates must be sent with applications.
No. Once a vehicle has ceased to exist, entitlement to its number also ceases. Possession of a log book or registration document alone does not give entitlement to a registration number. If a vehicle has been scrapped, you are required by law to notify the Secretary of State and return the registration document to DVLC.
We advertise every week in publications such as The Auto Trader, Top Marques, What Car, Top Gear and The Sunday Times to name but a few. Our main Internet web site is www.newreg.com, however we work closely with many large media houses, affiliates and vehicle information portals, providing content for their sites. Upon receiving your authorisation slip, your registration number shall appear on the Internet and in many of the adverts we place until it is sold.
Upon finding a buyer New Reg shall contact you in writing to request certain documents necessary for us to perform the transfer. We shall endeavour to contact you by telephone or in writing with any close offers made to New Reg which are less than the agreed price.
You will not find another dealer advertising a registration mark or number plate cheaper than New Reg...
But if you do we'll beat it!