Search All
Current Style
Prefix Search
Suffix Search
Cherished / Dateless
Advanced Search Options:
All
Current
Prefix
Suffix
Digits
Search by Digits
← Back
Simply enter how many digits, letters or numbers, that you would like on your private registration to see a list that meets your needs.
This method of searching is great for potential Investors looking for a cherished dateless plate at low-cost.
Prefix Number Plates
← Back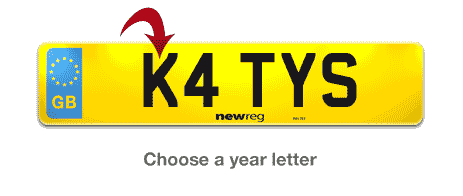 Prefix number plates are one of the most recognisable and impacting styles of vehicle registrations. Introduced in '83, prefix number plates start with a letter representing the year of the registration.
Suffix Registration Plates
← Back
Suffix style registration plates, introduced in 1963, contain 3 letters, 2/3 numbers and a last letter to indicate the year the vehicle was registered, starting from "A" being 1963, "B" being 1964, and so on.
If you'd like a suffix registration, simply use our suffix plate builder for instant results that come with an unbeatable price tag.
Current Style Registrations
← Back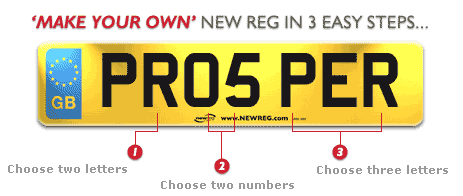 Current/New Style Registrations are the most recent types of Number Plates. They were first introduced in 2001.

Our search engine is the best in the business. Why? Because it converts ordinary everyday names or words into ready-to-buy number plates!
Simply enter your full name or initials, words of interest, or numbers relevant to you and our search engine will immediately start converting. Try it and see for yourself why it's the most advanced number plate search engine around.
You are here:

» Private plates
Private Plates
With the World going mad for celebrity gossip and the 'Bling' culture, it only seemed natural that private plates would increase in popularity. With image playing a more important role in peoples lives than ever before private plates have recently seen a spike in interest and desire is at an all time high for the best of the best.
There are many reasons to buy private plates; to hide the age of the receiving vehicle, to reflect the initials of the owner or to reflect ones personality, but never before has interest in the highest value top shelf private plates been as apparent. In the last 8 weeks New Reg has bought and sold more plates for six figure sums than in the 8 months before. Private plates such as B1 and Y1 have been traded, setting new records for values on this type of private plates.
For years certain plates have caught the eye of the discerned buyer and the ultimate number 1 private plate was the goal for many. In the second quarter of 2006 interest levels in what the trade call single singles have soared. A single single is a private number plate with only one letter and one number; e.g. Y1, K5 or 2L. Once considered a dealer commodity in that they had a steady investment value due to their low availability these plates are now being sought as alternative investments by smart people, and rightly so.
This category of private number plates is the most historic of all DVLC registrations, with the first ones being issued in 1903, many are now technically antiques! New Reg currently own more of these plates than any other number plates dealer in the world and if we don't own the one that you want, we probably know who does. Call New Reg on 01772 566400
You will not find another dealer advertising a registration mark or number plate cheaper than New Reg...
But if you do we'll beat it!